ICYMI: President Obama SXSW Keynote Recap Rap
For seven years at SXSW Interactive, SaulPaul has helped recap the Festival's biggest name speakers. His Recap Raps are both informational and entertaining. Listen as he takes us inside of the talk of SXSW Interactive Keynote, President Barack Obama.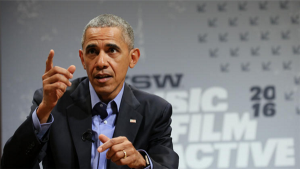 This marks the first time in the 30-year history of SXSW that a sitting President and the First Lady have participated in SXSW.
On Friday, March 11, President Obama sat down with Evan Smith, CEO / Editor in Chief of The Texas Tribune, for a conversation about civic engagement in the 21st Century before an audience of creators, early adopters and entrepreneurs who are defining the future of our connected lives. The President called on the audience to apply their ideas and talents to make technology work for us – especially when it comes to tackling big challenges like increasing participation in the political process and fighting climate change.
Check out SaulPauls Recap Rap About President Obama here: