For seven years at SXSW Interactive, SaulPaul has helped to recap the Festival's biggest name speakers. His Recap Raps are both informational and entertaining. Listen as he takes us inside of SXSW Interactive Keynote, Elephant in the Valley, featuring Michele Madansky, Laura Weidman Powers, Megan Smith and Trae Vassallo.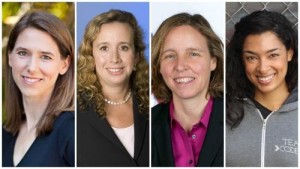 About the Keynote Panelists

Michele Madansky and Trae Vassallo are two of the authors of the recently-released "Elephant in the Valley" report that provides strong data documenting the workplace challenges in the tech industry. As noted in the intro section of the report's website, this study was inspired by the impactful conversation that came out of the Ellen Pao / Kleiner Perkins trial from March 2015: "What we realized is that while many women shared similar workplace stories, most men were simply shocked and unaware of the issues facing women in the workplace."
Laura Weidman Powers, the co-founder and CEO of CODE2040, a nonprofit that creates pathways to success in the innovation economy for Blacks and Latino/as. She brings to this work a background in entrepreneurship, nonprofit management, youth development, and technology.
Megan Smith is the United States Chief Technology Officer and will covered the various Obama Administration initiatives to combat this problem of gender disparity in the tech industry, including initiatives like inclusive entrepreneurship with the White House Demo Day, the President's TechHire effort, and K-12 Computer Science for All.
Check out SaulPaul's Recap Rap About 'Elephant in the Valley' here