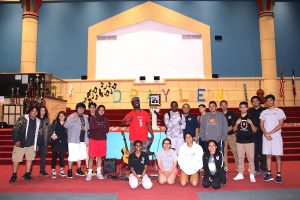 Whenever SaulPaul goes to an event to motivate young people to pursue their dreams, it's never short of a fun time for those who are in attendance.
SaulPaul spoke at a Just Keep Livin' Foundation event at East Austin College Prep. With high school seniors in attendance, many of whom are going to college to pursue their dreams or career, he gave them advice about leadership and life choices. The event was packed with words of encouragement and positivity to achieve their dreams.
Every one of these events that SaulPaul attends, it's always a different experience, but the events are always to move people and bring a positive message to not only the youth, but for everyone. Many students were moved by the words and stories that SaulPaul shared with them. And the event ended with a circle of gratitude which is integral to the Just Keep Livin' Foundation experience.
About The Just Keep Livin' Foundation:
The Just Keep Livin' Foundation was started by Matthew and Camila McConaughey and is dedicated to empowering high school students by providing them with the tools to lead active lives and make healthy choices for a better future.