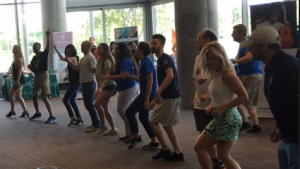 SaulPaul performed at HealthCode's Austin All Stars Celebration and Expo. SaulPaul kicked off the event with the Texas Two Step along with other special guests, musician Guy Forsyth, sports legend Ally Davidson, two-time NFL Super Bowl champion Dan Neil as well as SXSW's Hugh Forest.
Sponsors at the event:
Danone, Evian, Horizon Organic, SO Delicious, Baylor Scott & White Healthcare, NFL Austin Alumni Chapter, Sleep Number, Belmont Village Senior Living West Lake Hills, Personique/Austin Clinic for Men, Natural Health Center of Austin/Foundation for Wellness, IFLY Austin, Texas Beef Council, Whole Foods Market, and Dun & Bradstreet.
About HealthCode
HealthCode is a nonprofit organization that is dedicated to empowering people to live healthier lives. HealthCode focuses on activity, nutrition, environment and community. Initial programs focus on activity through quarterly global events, This is the 5th Anniversary of April's Million Mile Month, so time to celebrate, recognize key players and help engage more folks in the greater Austin community in fun, healthy active lifestyles. Please see this PDF for background. https://healthcode.org/