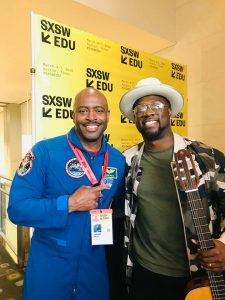 SaulPaul had a great experience at SXSW EDU this year! He was a mentor and had a book signing for his book, Dream in 3D. In the midst of the book signing, he performed a freestyle impromptu set. He pulled out his guitar and started to rap. It didn't take long for a crowd to quickly form around him.
He was able to catch up with fellow leaders in education and in between book signings, had a moment to chat with astronaut, Leonard Melvin, author of Chasing Space, right before his book signing.   
Next week… SXSW Music Festival! SaulPaul will be performing some of his new songs and of course some of his classics too. The SaulPaul Allstars will be joining him on stage as well!  There will be dancing, rapping, and fun! You won't want to miss out! The event will be held on March 14 at the Doris Miller Auditorium from 1:00p-7:00p!