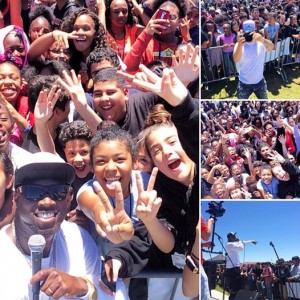 SaulPaul has been a featured act in dozens of major music festivals over the last decade from the Orange County Fair to Musikfest and the D.C. BBQ Battle. SaulPaul decided to Dream in 3D and start his own touring festival. The audience? Youth. The location? Schools across the nation. First stop? Austin, Texas.
That's right. SaulPaul's Dream in 3D Music and Arts festival is a touring cultural arts experience bringing live music, activities, dreams, and opportunity. We brought our first event to a success on the hill of the great Decker Middle School.
Over 850 students and teachers had a concert brought to their school! Not only was there live music performed by SaulPaul, but we also had 5 different zones festival goers could check out. Zones were sponsored by awesome companies like LoudMouth Rentals, Music Madness ATX and #besomebody.
From the Hula Hoop zone, inspired by SaulPaul's song, Do That Hula Hoop, to a live interview station on site and much more, students were treated to an awesome interactive and immersive experience.
As SaulPaul was shining on stage, the crowd got to shine in their own creativity inside the Graffiti Wall tent. The attendance at this collaborative experience was memorable and every attendee had the chance to express themselves.
Check out this video of the festival and stay connected for more to come! #Dreamin3d