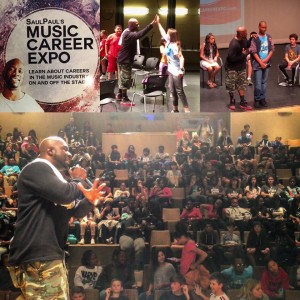 The  most recent SaulPaul's Music Career Expo was the best yet! The event was SOLD OUT, standing room only. Those in attendance were enthusiastic, energetic and talented. The speakers were top notch, passionate and the best at what they do. The organizations in our resource fair are the leaders in their field. The volunteers are highly sought after in their own field and any day they are somewhere making boss moves‬. Yep. Definitely the best yet. And the crazy part is, the next one will be better.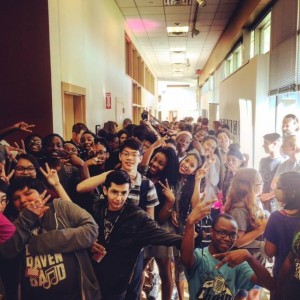 Produced and Hosted by SaulPaul and ReRoute Music Group, the event drew in students from across Central Texas to learn about careers in the music  industry. This year we had amazing attendees, great partners and super star sponsors, the City of Austin Music and Entertainment Division, Capitol View Arts, La Patisserie and Texas Music Water.
Among many of the day's highlights, SaulPaul's Music Career Expo brings together music industry professionals from all aspects of the field to introduce, educate and enlighten students on career opportunities within the music business. Flowstory, The University of Texas, Capitol View Arts, the City of Austin Music and Entertainment Division, Austin Music Foundation and Loudmouth Rentals were this year's exhibitors.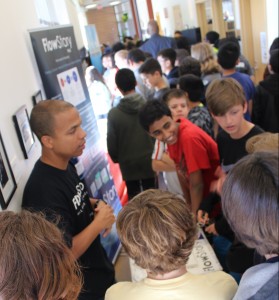 The day long event included guest interviews and panels with a focus on working in the music industry on and beyond the stage. In addition, students were educated on how academics play a part in their successful transition into becoming paid professionals.
Thank you to our speakers:
Geneva Martin, Audio Engineer, Loudmouth Rentals
Dale Kittendorf, Music Buyer, Austin Public Library
Stephanie Bergara, Artist, BidiBidiBomBom
Amy Lombardo, Tunecore
V Marc Fort, Texas Music Office
Brad Stein, Attorney
Dave Blue, Spot Caller
Dennis "Genius" Johnson, KAZI 88.7FM The Voice and Soul of Austin, UnTapped Show
Because education and employment are the primary goals, SaulPaul's Music Career Expo also welcomed college exhibitors as well as music industry related companies on site during the day for students.