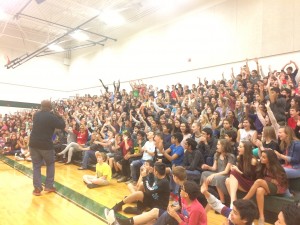 Stiles Middle School welcomes SaulPaul to Leander
The students of Stiles Middle School were inspired, entertained and empowered by Musician with a Message, SaulPaul. He was invited to Leander, TX and while there, had the opportunity to share his heart and art with over 1200 young people. He mixed in music and powerful storytelling to bring awareness to bullying, self-acceptance and the power of discovering your gifts and talents. He brought them a message of hope and encouragement. One student came up and shared her thanks; she felt a sense of freedom and empowerment due to his music and message.
This took place only days from SaulPaul attending the Grammys and he was excited get right back on his Mission: #BeTheChange and empower others to #DreamIn3D. Another big highlight was when he had a couple hundred folks leave the stands and do his dance –  the Texas Two Step – with him on stage.



After two back to back presentations, the students eagerly asked questions, took photos and shared which parts of the SaulPaul's presentation was most inspiring!


He also met some awesome teachers and some cool band instructors. Who knows? He may have a new batch of young stellar students to feature on the new Children's album he's been working on. He's been working on it for over a year and he's excited to release it in a few months. The features are amazing. He even has a Grammy winning engineer that is playing a part. Look out for the album in the next few months!!!