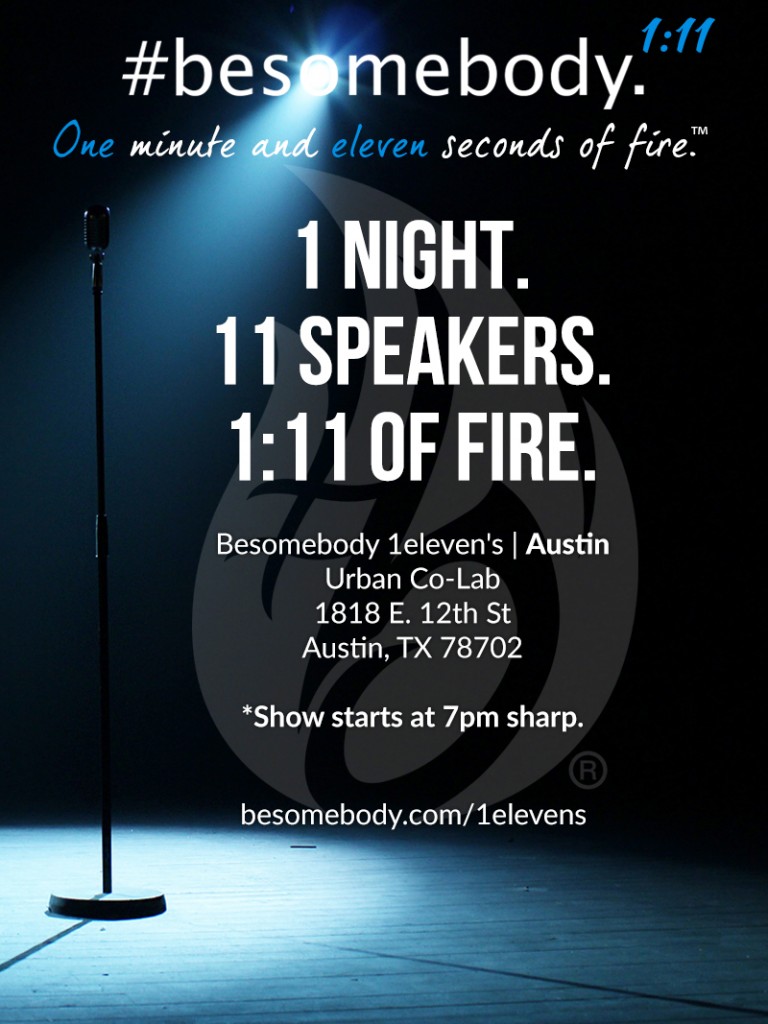 SaulPaul is set to host the 1st Besomebody 1eleven in Austin, Texas.
Besomebody 1elevens are intimate, local events where diverse people from diverse backgrounds come together to share their passions.
The format is fast and furious. Eleven (11) speakers have one minute and 11 seconds (1:11) to share anything they are truly passionate about – an idea, an issue, a project, a cause, a charity, a problem, a solution, a question, an observation, etc – with the audience. The talks can be serious, sad, funny, quirky, tragic, triumphant, ridiculous or scientific… But they must be passionate.
For more info or to RSVP visit: https://www.eventbrite.com/e/besomebody-1elevens-austin-tx-tickets-30331776159?aff=es2
Besomebody 1elevens benefit The Besomebody Foundation, a 501(c)(3) non-profit corporation that provides experiential learning, skills training and job placement for people in need. Groups served include unemployed veterans, single parents, and at-risk youth. Donations are not required, but much appreciated. Donations can be given at event check-in or via
#besomebody
clothing purchases. To learn more about the Besomebody Foundation, visit besomebody.com/foundation.
Alright, Austin, let's do this… One mic, one camera, one minute and 11 seconds of fire.