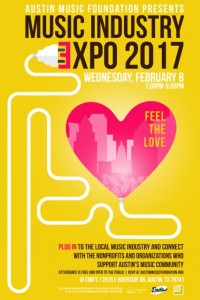 AMF's  annual "Feel the Love" Music Industry Expo at Emo's was hosted by KUTX Program Director, Matt Reilly and featured guest appearances by Mayor Steve Adler. We were especially excited to announce that SalPaul had a special performance before the event officially kicked off. SaulPaul celebrated evening event in musical fashion before he headed out to attend the Grammys in Los Angeles.
This music industry event, was an opportunity for musicians and industry professionals alike to come together to connect, network with industry peers and as importantly, learn about resources in the music community. SaulPaul was elated to play a part in celebrating the incredible support and love the Austin community has for local music and musicians.
Local nonprofits and support organizations that support Austin's music community in attendance, included: Arts & Entertainment Legal Clinic, Austin Convention & Visitors Bureau, Austin Federation of Musicians, Austin Independent Business Alliance, Austin School for the Performing & Visual Arts, Beyond the Grade, Black Fret, Central Texas Bluegrass Association, Health Alliance for Austin Musicians, Indian Classical Music Circle of Austin, Kids in a New Groove, KUTX, Music Moves Mountains Foundation, Rancho Alegre Radio, SaulPaul's Music Career Expo, SIMS Foundation, Somuma, Swan Songs, Texas Accountants and Lawyers for the Arts, Texas Music Museum, and Texas Music Office.
About Austin Music Foundation
Austin Music Foundation
(AMF) is a nonprofit whose mission is to strengthen and connect the local music community with innovative programs that empower music professionals and music businesses within Austin's creative economy. Austin Music Foundation offers free education specifically tailored to today's music business climate. With expert panels, consultations, mentoring and mixers, AMF's programs provide the necessary tools and opportunities to help the Austin music industry succeed. Since 2002, AMF has helped over 20,000 musicians and music industry professionals and remains committed to ensuring that Austin's creative class and music industry thrive.