One mic, One Camera, One Minute and 11 Seconds of Fire.
The night of inspiration and life transformation was kicked off by none other than SaulPaul. With the guitar in hand, he began the evening with his inspirational song Rise and then each 1eleven speaker rose up to share their passion. January 11, 2017 marked the 1st Besomebody 1eleven in Austin while two other #Besomebody 1eleven's happened simultaneously in San Fransisco and New York. Nestled in East Austin, Urban Co-Lab, was the premier venue sponsor for this inspirational evening of world changers. Guests included actors, business owners, poets, non-profit directors, storytellers, activists, social entrepreneurs and much more.
The Format
It was fast and furious. Eleven (11) speakers had one minute and 11 seconds (1:11) to share what they were truly passionate about – in this case the featured event highlighted a passion for community, civics and government participation, incarcerated children, work motivations, storytelling, youth entrepreneurship, the value of time, the power of potential and lastly passionate living.
Passionate People Everywhere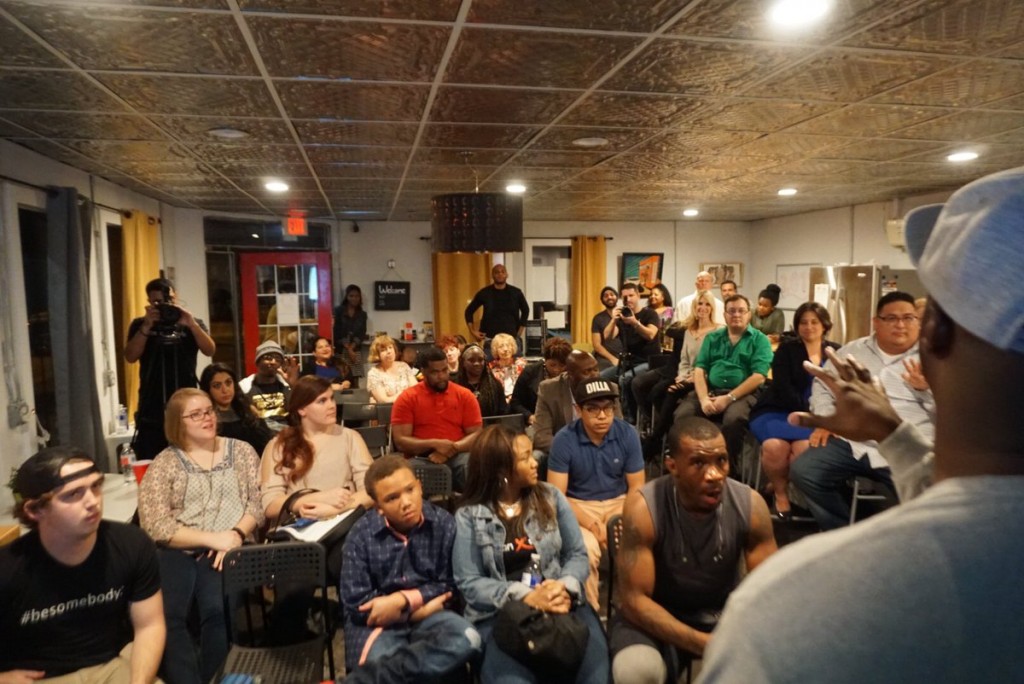 Those in attendance shared that it was "so exciting to be in a room full of passionate people; it's like a fire was ignited and we were able to 'light' each other up." People were truly inspired. "I made so many connections and I feel emboldened to step out and make that next career move – it's time for me to speak and share," said another attendee.
About Besomebody 1elevens
Besomebody 1elevens benefit The Besomebody Foundation, a 501(c)(3) non-profit corporation that provides experiential learning, skills training and job placement for people in need. Groups served include unemployed veterans, single parents, and at-risk youth. Donations are not required, but much appreciated. Donations can be given at event check-in or via #besomebody clothing purchases. To learn more about the Besomebody Foundation, visit besomebody.com/foundation.
About Urban Co-Lab
The Urban Co-Lab is built on a model of transforming under-served neighborhoods. It is guided by their belief that rapidly changing urban communities need advanced spaces for entrepreneurship.  They work with entrepreneurs to address urban problems through job creation, internships, and inspiration for local residents, thereby creating an ecosystem of business for urban cores. For more information about the Urban Co-Lab, visit http://www.urbanco-lab.com.