SaulPaul's #Dreamin3D Music and Arts Festival Returns +10 More Tour Stops!!!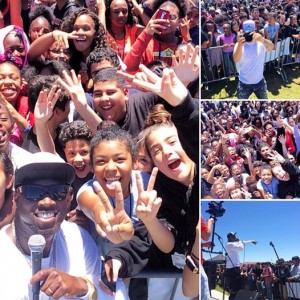 As a touring musician, SaulPaul has performed at several major festivals. As a performer, he has enjoyed the benefits of traveling across the country performing and meeting new people. These festival experiences inspired SaulPaul to bring back these festival experiences to Austin. And this time, he has ten tour stops across the city of Austin with plans to branch out into other cities across the United States.
With an impact of over 10,000+ people, SaulPaul has partnered with to bring 5 new exciting experiential festival zones. The event is presented by SaulPaul in partnership with ReRoute Music Group as well as amazing partners and sponsors such as Fender, LoudMouth Rentals, the City of Austin, the Police Activities League and just added, KIND bars.
In addition to several activity zones, including an Art Wall and Dream Station, this year, Fender will partner with SaulPaul to give away guitars at each of the festivals to deserving and talented students. One student from each school will receive a Fender guitar through their participation in the festival and per the recommendation of the school as well. This partnership will not only assist young people by opening the windows of opportunity through music but also open up doors for careers and future employment in the music industry.
#Dreamin3D