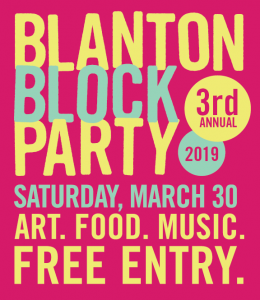 SaulPaul kicked off the Blanton Museum of Arts 12 hours of fun at their 3rd Annual Blanton Museum Block Party! The day-to-night community festival to kick off Spring brought in thousands across Austin to celebrate the big changes at the Blanton Museum. Guest were able to explore the epic exhibition "Words/Matter: Latin American Art and Language at the Blanton" and were inspired by the creative ways artists have merged visual art and language.
The Blanton Block Party was a perfect fusion of exceptional live music and world-class art, providing outdoor family art activities, local food, and tours throughout the day.
Families also enjoyed a variety of spoken-word performances and poetry readings in between live music sets from a selection of Austin music favorites.
About the Blanton Museum of Art
The Jack S. Blanton Museum of Art at the University of Texas at Austin is one of the largest university art museums in the U.S (189,340 sq. feet). The museum was founded in 1963 as the University Art Museum on the UT campus. The building was later redesigned and rebuilt and was renamed after its 1997 chairman, Jack S. Blanton. Today it is a popular Austin attraction that houses several works. The museum space is chiefly devoted to temporary exhibitions, permanent collection galleries, storage, an auditorium, as well as office/classroom spaces and a cafe. The museum has significant holdings of modern and contemporary art, Latin American art, Old Master paintings, and prints and drawings from Europe, the United States, and Latin America. The museum holds the largest public collection of artwork in Central Texas, nearly 18,000 works. It is a popular Austin destination for families and those who enjoy the artwork depicting Texas and many other cultures.