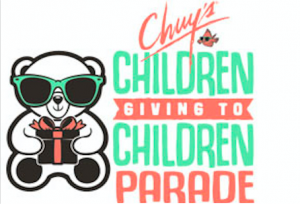 SaulPaul was excited to perform live at the Chuy's Children Giving to Children Parade this year on Saturday, November 24th. The parade benefited Operation Blue Santa so people came out and brought new, unwrapped toys to donate just in time for the holidays!
SaulPaul performed hit songs from his new album, All Star Anthems. SaulPaul also had surprise guests – the SaulPaul All Stars! It was a great day filled with giant inflatable balloons, festive holiday floats, famous children's characters, spectacular marching bands, cool classic cars and Santa!
About The 30th Annual Chuy's Children Giving to Children Parade 
This year will be the 30th Annual Children Giving to Children Parade in Austin for the Operation Blue Santa Program. To date, the event has raised hundreds of thousands of toys for the children of Central Texas. And it is made possible by the thousands of spectators, young and old alike, who come out, who came out each year and share in the great joy of giving. it's an event complete with giant inflatable balloons, festive holiday floats, spectacular marching bands and Santa, that brings a smile to the child who gives and to the child who otherwise might not see anything under the tree Christmas Morning.
About Operation Blue Santa
Operation Blue Santa provides gifts, toys, and gift cards for families in need during the holiday season. OBS' service began with about 20 needy families, this year OBS will easily serve over 5000 families. This is only possible because of the goodwill and big hearts of Austin's citizens, businesses, and civic groups that support OBS each year!!!