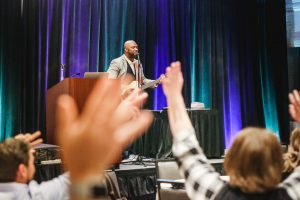 The Directing the Work – Annual Executive Directors Conference for Family Violence & Sexual Assault Programs was a huge success! SaulPaul was invited to close out the general conference session and leave the audience with entertainment, inspiration and empowerment. Honored and excited about the opportunity, SaulPaul did not dissapoint. *View some of the photos below courtesy of photographer, Jennifer M. Ramos, who captured these awesome photos of the conference.



















About the The Texas Council on Family Violence 
The Texas Council on Family Violence promotes safe and healthy relationships by supporting service providers, facilitating strategic prevention efforts, and creating opportunities for freedom from domestic violence.
Since 1978, the Texas Council on Family Violence (TCFV) has been a nationally recognized leader in the efforts to end family violence through partnerships, advocacy and direct services for women, children and men. TCFV is one of the largest domestic violence coalitions in the nation, with a membership comprised of family violence service providers, supportive organizations, survivors of domestic violence, businesses, communities of faith and other concerned citizens.  As a membership-focused organization, TCFV is firmly committed to serving its members, communities in Texas and thousands of victims of domestic violence and their families.
TCFV hosts an array of dynamic signature conferences, summits, training events, webinars, and prevention efforts throughout the year to support the capacity building of member programs and enhance community responses to family violence throughout the state. TCFV also serves as the unified voice before the Texas legislature on behalf of family violence survivors and service providers to support laws that assist victims and survivors.