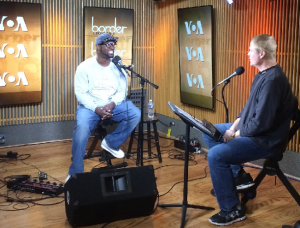 SaulPaul joined host Larry London on the world's best variety of music on Border Crossings. He performed three songs live in the Voices of America Studio. He performed two songs featured on his album, We Dream in 3D, Rise as well as Mama.
After wowing radio host Larry London with an improv freestyle session, SaulPaul shared part of his incredible journey of overcoming tragedy and adversity compounded with poor choices to transitioning and becoming the 2017 Austinite of the Year. "It wasn't my circumstances that landed me there, it was my choices…because it was my choices, I was empowered, because I knew I could change those. I was making bad choices, so I had bad results. I realized if I made better choices, I would get better results."
SaulPaul shared the inspiration behind becoming A Musician with a Message and the inspiration behind his thought provoking lyrics. It is this positive message that inspired the creation of SaulPaul's latest studio album, "We Dream in 3D". The album is the embodiment of positivity, hard work, and creativity that SaulPaul encourages kids to aspire to everyday.
Listen here or visit the Voices of America Border Crossings site.
About Border Crossings
Border Crossings is a live, all-request, music-oriented radio show that is broadcast worldwide by the US government-operated Voice of America. Premiering on October 13, 1996, with Judy Massa as host, it is one of VOA's longest-running music programs, surpassed only by Willis Conover's jazz program (1955-1996), and "Country Hits USA" (airing continuously since 1984 and also originally hosted by Massa). Following Massa's retirement in 2001, Border Crossings was hosted by Ray Freeman until his retirement in 2004. The program is currently hosted by Larry London.