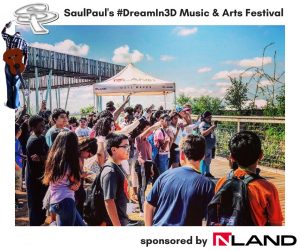 SaulPaul's Dream in 3D Music and Arts Festival at NLand Surf Park was a huge success! Check out the photos below!!!
This Spring SaulPaul and his team produced 3 different festivals. "With each festival we #LevelUp and upgrade the experience. Our most recent was Friday at NLand Surf Park. This festival was no exception," said SaulPaul.
At the festival, SaulPaul performed live music along with his chart topping single, Rise (Remix) from his latest album. All the activities at the festival were inspired by his songs. Special guests included Alexia as well as The Del Valle Cardinal cheerleaders. The festival also hosted a showcase of talented artists from across Central Texas. Add in the concert + art + dance + inspiration… and you can get a glimpse of how it went down. All the while surfers surfed in the background. It was EPIC! And a day to remember!

About NLand Park
NLand Park is a surf park located in Del Valle. They offer live music, yoga on the shore, surf lessons, dining areas, and more.