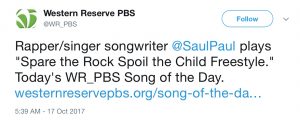 SaulPaul's "Spare the Rock Spoil the Child Freestyle" is selected by Western Reserve PBS, NPR Las Vegas and Valley PBS radio for their WR PBS "Song of the Day.
"
About Western Reserve Public Radio
Western Reserve Public Media serves the largest population among Ohio's eight PBS member stations. Their broadcast channels — Western Reserve PBS, Fusion, MHz Worldview and V-me — are available to 5.13 million viewers in Northeast Ohio and Western Pennsylvania.
About Valley PBS
ValleyPBS is the Valley's Preschool, Classroom, Stage for the Arts and Lens for Exploration, pointing citizens of all ages to destinations where their interests will be served, their spirits lifted and their voices and perspectives heard. The Station reaches more than 94% of households with a television in our service area and broadcasts more than 70 hours of quality, research-based children's programming each week. PBS and our member stations are America's largest classroom, the nation's largest stage for the arts and a trusted window to the world. In addition, PBS's educational media helps prepare children for success in school and opens up the world to them in an age-appropriate way.
About NPR Las Vegas
Nevada Public Radio is NPR in Las Vegas. A growing audience relies on our broadcast, print and digital distribution channels for a unique mix of local, national, and international news; entertainment and cultural content.
Nevada Public Radio will enhance the quality of life and foster civic engagement by informing, educating and inspiring our growing audiences.