SaulPaul took his #FreshForever Tour out West, "Texas West," to entertain, inspire and motivate the Angelo State University Rams. Invited by the University Center Program Council for their monthly Crossroads Live Acoustic Session, SaulPaul brought his swag to this unique singer songwriter stage.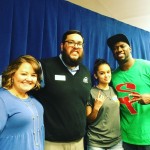 Lorraina Perez, Concert Chairperson heard of SaulPaul from another college friend on a programming board and thought he would be perfect to come out to Angelo State University. She has seen his TEDTalk as well as a performance online and thought that it would be a great experience for her fellow student body. Her advisor approved and the rest was history! SaulPaul had a quick tour of the campus on the way to do a live radio interview after his  interactive concert and a meet and greet. The Rams were in for a Treat and SaulPaul delivered.
Always incorporating students from the audience, He even made a dance floor for others to showoff there moves with the hula hoop. When it came down to it, there were two hula hoppers going head to head to win the final prize, SaulPaul's latest CD, Dream in 3D.


Then, he led dancers in the Texas Two Step. SaulPaul used music as the medium to tell his story, which sparked questions and excitement from the students, whom he made active participants. He touched on topics like leadership, making healthy choices, family, peer pressure, decision making, succeeding in school, staying active, and much more. He has a gift for seamlessly transitioning each moment into bite-sized teaching points through performance, story-telling, and crowd participation.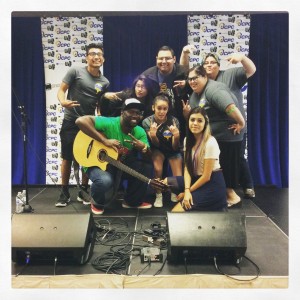 As SaulPaul was strumming the guitar, he had couple of singers blasting out his lyrics. For the grand finale, SaulPaul created a song with the audience by taking in words from the Rams, and used the words as teachable moments through his lyrics. The impact and influence was not limited to the students, however. Guests, staff, and students were eager to get photos with SaulPaul and a signed copy of his book, Dream In 3D, and the visit ended the same way it started— with the students shinning like shooting stars.