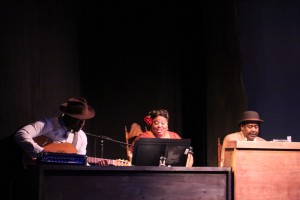 Every year, the B. Iden Payne Awards recognize outstanding theatrical performance, production, and design in Austin, Texas. This year SaulPaul is excited to be nominated alongside Billy F. Harden and Janis Stinson for Outstanding Featured Music Performance. This nomination comes in response to their musical performance in the play, "Spunk," presented by The Spectrum Theatre Company, Austin's premier African-American theatre group.
SaulPaul was excited to perform with such a wonderful and talented cast. He also enjoyed the opportunity to spend every night playing his Fender guitar for over a month while the play was being featured in Austin, Texas.
The play presents George C. Wolfe's adaptation of three stories by famed writer Zora Neale Hurston: "Sweat," "Story in Harlem Slang," and, "The Gilded Six Bits." Directed by Marcus McQuirter, the play starred Billy Harden, Carla Nickerson, Marc Pouhé, Janis Stinson, and SaulPaul.
Austin Chronicle writer, Robert Faires, gave a rave review highlighting the ensemble's skill along with the director's smooth and dramatic choral storytelling combined with '"raise-the roof' music provided  by Billy F. Harden's piano, SaulPaul's guitar and Janis Stinson's rafter-ringing voice!" Broadway world writer, Lynn Beaver, gave the play high remarks and shared in her article – "I give my highest recommendation to 'SPUNK', it is certainly a theatrical experience that should not be missed."


Spectrum Theater is helmed by some of the most influential, accomplished and award winning theatre artists in the city and region. Spectrum Theatre Company is Austin's only African American theatre company, is the brainchild of Billy Harden, Ed.D, Janis Marie Stinson, Carla Nickerson, and Jacqui Cross, who collectively and individually have graced not only the stages of Austin, but many national stages as well. Spectrum Theater members are professional entertainers of the highest caliber, appearing not only in theatrical productions, but additionally in the mediums of television and film.


About Spectrum Theatre
The Spectrum Theatre Company was born out of a need to create art that impacts the social and cultural norms facing the diverse populations in Austin, Texas. In the summer of 2013, four of Austin's leading Black actors met to begin exploratory conversation about how the unique stories from the African American perspective could be interwoven into the fabric of the Austin Theatre scene.This group of veteran thespians included Jacqui Cross, Janis Stinson, Carla Nickerson, and Billy Harden.