SaulPa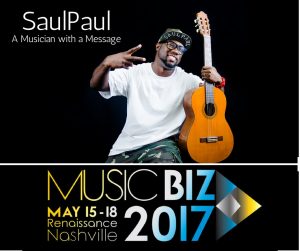 ul is set to keynote at this year's Music Business Association (Music Biz) Conference. The conference nurtures the next generation of music business executives and entrepreneurs through its Career Development programming at the Music Biz 2017 convention, which will be held May 15-18 at the Renaissance Nashville Hotel in Nashville.
The Career Development Workshops will begin with a keynote from SaulPaul, after which representatives from Atlantic Records; Borman Entertainment; EVAmore; Event Escrow; Maverick Management; The Recording Academy; Sony/ATV; William Morris Endeavor (WME); universities including Full Sail University, Middle Tennessee State University, The University of Memphis, Monmouth University, The University of Texas at San Antonio, and William Paterson University; and more will discuss careers in music, resources for entrepreneurs, networking, job interviews, and other skills necessary to get a foot in the door of the music industry.
The program will wrap with Career Day, during which representatives from Amazon, Baker & Taylor, BMI, Creative Artists Agency (CAA), indiehitmaker, INgrooves Music Group, ole, SESAC, Songtrust, Sony Music Entertainment, SSA Music, Super D/Alliance Entertainment, Universal Music Group, Warner Music Group, and others will be on hand to meet with attendees, discuss job opportunities and internships, and help aspiring music business executives find their best path forward.
– See more at: https://musicbiz.org/news/music-biz-2017-career-development-programming-helps-students-entrepreneurs-break-industry/#sthash.V8dWG3y5.oFknYojJ.dpuf