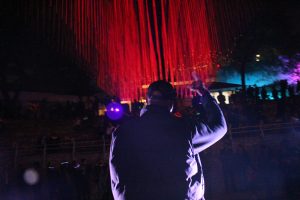 This November, Central Texans were in for a treat at the Waller Creek Conservancy's 5th Annual Creek Show! SaulPaul kicked off the 2 weekend annual event at the newly renovated Symphony Square. In fact, he was the first musician to perform at the Symphony Square since they reopened the amphitheater.
SaulPaul performed songs from his latest album, All Stars Anthems. The evening was a blast and had not only Austinites but out of town visitors coming into town to experience the live music and site-specific art installations along Waller Creek adjacent to the Red River Cultural District.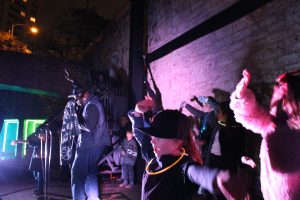 SaulPaul performed songs from his album, All Star Anthems – including Hands in the Sky. After the live performance with SaulPaul, guests had the opportunity to stroll along the creek, between 9th & 11th Streets, while taking in six new illuminating works of light-based art. The 2018 "Creek Show Lounge" offered attendees a place to relax, enjoy interactive activities, live music, and exciting opportunities to learn about the Waller Creek parks project.
The installations were amazing! Local architects, landscape architects, visual artists, and fabricators designed this year's six site-specific installations!
Check out some of the photos below:






The Creek Show also featured interactive games and activities for all ages at the Family and Children Entertainment Zone. This area included exciting demonstrations, and creative hands-on activities from The Thinkery, along with interactive lawn games and an imagination playground.